Air scrubbers are commercial size high capacity machines and each machine can move, filter and clean up to 2000 cubic feet of air per minute (CFM). Alpine Air Corp. machines have triple stage filtration with HEPA filters. HEPA filter will capture small particles such as mold, bacteria, asbestos, lead and more. (Read more about hepa filtration in FAQ section.)
Using an air scrubber during mold cleanup is extremely important for health and liability reasons. If mold or other hazardous materials are released in the air they may contaminate neighboring areas of your home or office which were previously un - contaminated. Mold spores may travel via the air to other parts of a building, and can colonize clothing and furniture in clean areas.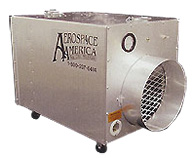 Model 600 MAG Features:
MADE IN U.S.A.
Air Capacity 675 C.F.M. High Speed
Air Capacity 450 C.F.M. Low Speed
Motor: 1.0 H.P. (two speed switch)
26" Length X 18" Width X 18" Height
Slide Down Door for E-Z accessibility
Four (4) Casters for E-Z mobility
12" Exhaust
Filters:
1st Stage - 16" X 16" Pre-Filter
2nd Stage - 16" X 16" X 1" Ring Panel
3rd Stage - 16" X 16" X 5-7/8" H.E.P.A. Filter

Models vary up to 2200 cfm.
The use of air scrubbers is recommended for all remodeling jobs where dust is created. Air scrubbers will continuously purify the air and provide a clean, healthy and productive environment.
Please CALL for more information.